How to integrate the Trustbadge into WooCommerce website
Effortlessly collect, show and manage customer reviews with the one and only Trustbadge® technology for your WooCommerce store! Once integrated, it updates automatically. Additionally you can integrate your trustmark and provide the money-back guarantee.

---
Integrate Trustbadge®
Watch our brand new video or read our tutorial.
Step 1
As a WooCommerce user, you can use a free Trusted Shops plugin available in the Wordpress Plugin Directory. Please install the plugin within the admin section of your Wordpress installation: Plugins >> Add New >> Upload Plugin.
Step 2
After installing the plugin, you can find it in the list at Plugins >> Installed Plugins >> WooCommerce Trusted Shops. Activate the plugin and go to Settings.
Please note: If you have already integrated the Trustbadge® manually, please delete it before continuing.
Step 3
Enter your Trusted Shops ID (starting with X...) within the according field and save the configuration. You can find your Trusted Shops ID, for example, in your My Trusted Shops Account or in your Welcome-mail.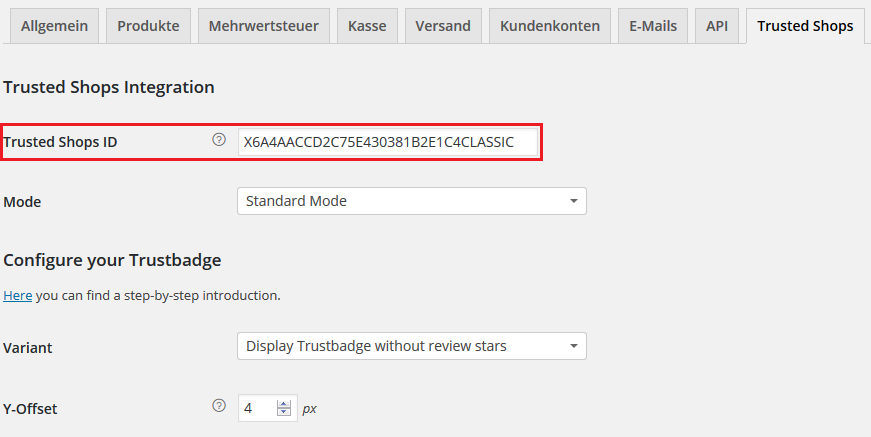 There you are! You have already successfully integrated the Trustbadge®!
If you like you may choose whether you want to display the Trustbadge with or without review stars (variant) or adjust the y-axis position of your Trustbadge (Y-Offset).
Integrate Product Reviews
If you want to use Trusted Shops Product Reviews, you can also configure that they are automatically collected or the way they are displayed on your product detail page: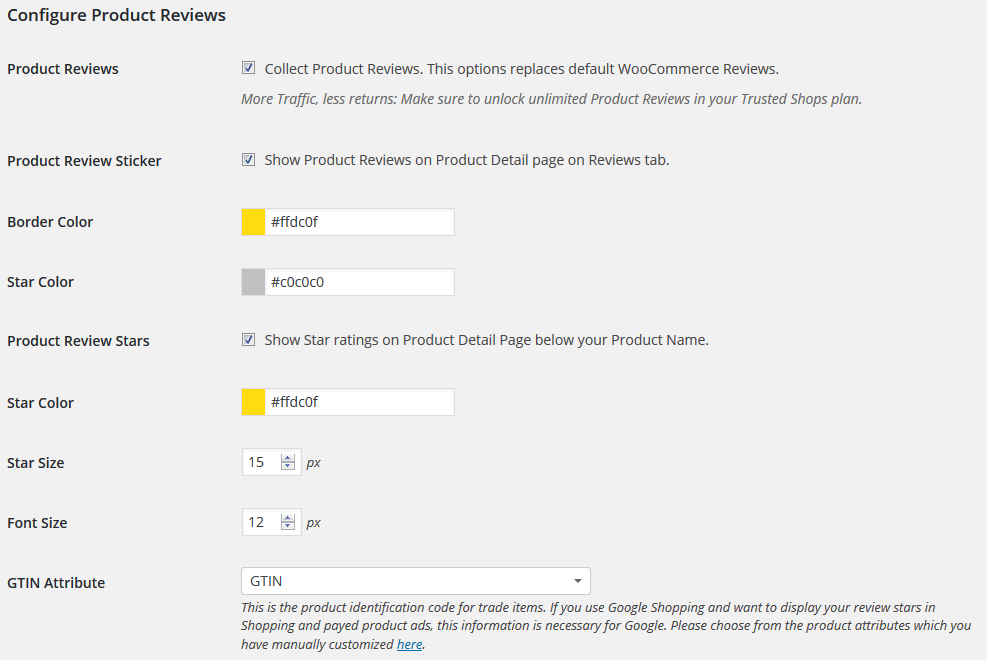 You can adjust the design of product reviews according to the needs of your shop by using additional parameters, e.g. you can set the border colour of the frame around your reviews or the colour and size of your stars.
If you want to display your product reviews on Google Shopping and have booked a plan that includes this option, you can set which product attribute shall be used as GTIN. Please note that the GTIN is currently not included in the WooCommerce standard and therefore must be configured manually. This solution only works if you are not working with variable products.
Integrate Product Review by using the Expert Mode
If you want to use Trusted Shops Product Reviews by using the Expert Mode and you want to display the review stars you have to add another line of Code:
'enablePlaceholder' : 'true',
Display Trustbadge within the lower right corner of your shops or somewhere else? Deactivate responsive design? Adjust the design of product reviews?
By using the Expert Mode you may personalize your integration even more.
You can use the Review Collector to invite previous clients to leave a review.