How to integrate the Trustbadge® into your Shopify store

Effortlessly collect, show and manage customer reviews with the one and only Trustbadge Reviews® Toolkit app for Shopify! Once integrated, it updates automatically.


---
Setup the app once to start collecting reviews
Connect the Trustbadge® Reviews Toolkit app
a. Click on the button "
Get the Trustbadge® Reviews Toolkit"
above.

b. On the next page click on the green button "Get" on the right side of the page.




c. Insert the web adress of your Shopify store and click on "Log In".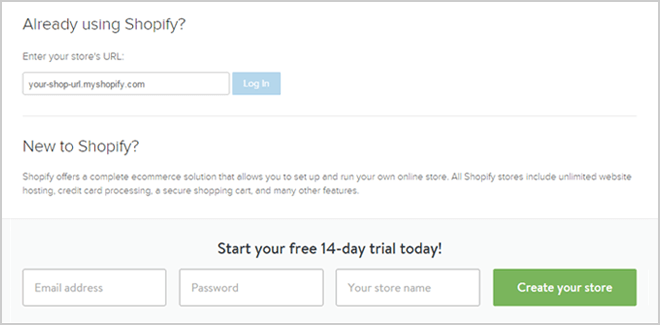 d. If you have installed a pop-up blocker, click on "Sign in with Shopify" and leave the tab open. If you do not have a pop-up blocker installed, follow the next step.


e. Confirm the installation by clicking on the button "Install Trustbadge: Reviews Toolkit"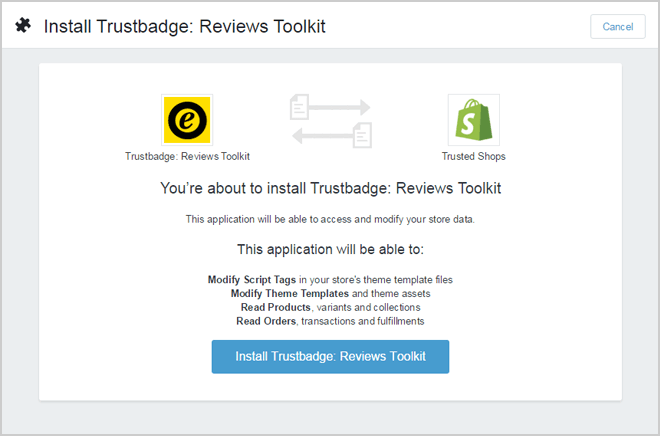 ---
Set up your Trustbadge® Reviews Toolkit app
There you are - your app is connected. What's missing are some credentials to make it work.
f. Insert your Trusted Shops ID - see how:

- You can find your Trusted Shops ID in the confirmation mail after your sign up. If you don't have an account yet, it's free and easy to sign up.

- Insert your Trusted Shops ID in the field "Trusted Shops ID" in step 2 "Adapt Your Trusted Shops Configuration" and click on the blue button "Save" below.

g. The configuration in step 3 is optional for you. Here you can collect product reviews.

- Find more information on product reviews. If your Trusted Shops plan does not include product reviews and you want this feature, get in touch with us.
---
Enjoy the Trustbadge®
Great! Everything is done - you can now start collecting reviews with your Trustbadge® and grow your business. How you do it best? Read some helpful tips here.
You want to know how to collect reviews? Click here