How to integrate the Trustbadge into SEOshop (or "Lightspeed") website


Effortlessly collect, show and manage customer reviews with the one and only Trustbadge® technology for your SEOshop store! Once integrated, it updates automatically.


If you don't have an account yet, it's free and easy to sign up.
---
Setup the Trustbadge

®

once to start collecting reviews
Step 1
As a user of SEOshop you can now use a free Trusted Shops app which enables you to integrate the Trustbadge® more efficiently than ever before.
The app is available in SEOshop's App-Store and can be added as usual to your SEOshop.
If you have previously integrated the Trustbadge® manually, please delete it before continuing with the configuration of the new app.
Step 2
Once you you're logged into you SEOshop backend and have the installation of the app completed, you will be forwarded to the app's configation-setting by clicking on Viewsion SEOshop App Center. Enter your Trusted Shops ID (starting with X...) here. This can be found in your My Trusted Shops account, for example.
Now confirm it by clicking Add and you will be forwarded to further configuration settings.
Step 3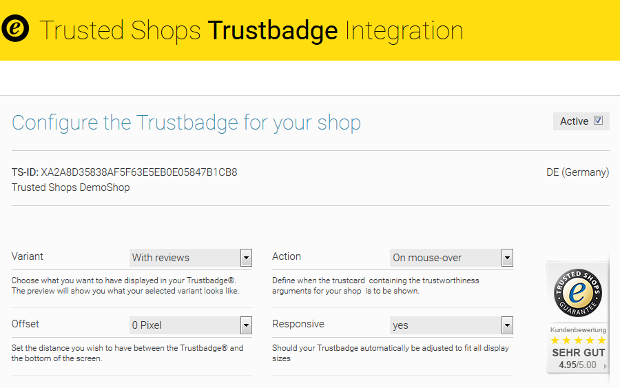 Here you can choose between several options if needed. The Trustbadge® will be added automatically to its corresponding frontend language
Now Save your settings and your Trustbadge® will appear in your storefront within a few minutes (right after your SEOshop's cache has been flushed).
Please repeat Steps 2 and 3 if you have booked additional memberships for further storefronts.
You have successfully integrated the Trustbadge®, congratulations! The good news is that your Trustbadge® is already requesting reviews automatically. To invite previous clients to leave a review, start using the Review Collector and continue reading to learn how to export needed data within SEOshop!
Review Collector: Ask previous customers to leave a review
Step 1
Log in to the back end of your SEOshop and select Invoices in the Sales category. Select the orders of the last 2 – 3 months by ticking the checkboxes and click on the tool icon at the top of the page, then choose Export to .csv. Save this file and open it in a spreadsheet programme on your computer (i.e. Microsoft Excel).
Step 2
Now you have to copy some of the columns from this one into a new spreadsheet in the same order as follows: Email, OrderNumber, FirstName and LastName. Open a new spreadsheet and copy the columns mentioned above from the previous spreadsheet. Once you've done this, delete the first line which contains the columns' titles in the new spreadsheet. Save this new spreadsheet as .xls or .xlsx file on your computer.
Step 3
Log in to My Trusted Shops. There you'll find the Review collector tab under the Ratings menu item. Follow three simple steps, upload the spreadsheet you've created, select which template you would like to use and hit the confirm button to send the e-mails to your customers. Congratulations, you'll receive fresh reviews shortly.
---
back to top