How to integrate the Trustbadge into PrestaShop
Effortlessly collect, show and manage customer reviews with the one and only Trustbadge® technology for your PrestaShop store! Once integrated, it updates automatically. Additionally you can integrate your trustmark and provide the money-back guarantee.
---
Install Trusted Shops Module
Please note: our current module requires at least a version of PHP 5.5. If you use an older version, which you cannot update, you can download an older version of our module here.
Please open your PrestaShop backend and go to Module >> Front-Office-functions das Trusted Shops Reviews Toolkit and click on install.
Please note: If you have already integrated the Trustbadge® manually, please delete it before continuing. If you are using an old module please deactivate it before continuing.
Alternatively you can download the module from PrestaShop Addons Marketplace" and manually install it in the backoffice of PrestaShop.
Configure Trusted Shops Reviews Toolkit
Step 1
Go to Modules>>Trusted Shops Reviews Toolkit. With version 1.6 the module is at the end of the menu bar.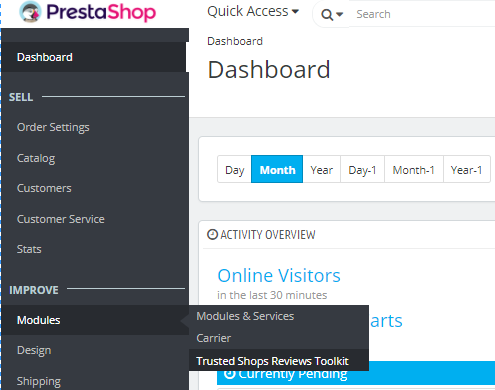 Step 2 Log-In
If you are already a member of Trusted Shops, you can log into your module by using your My Trusted Shops credentials: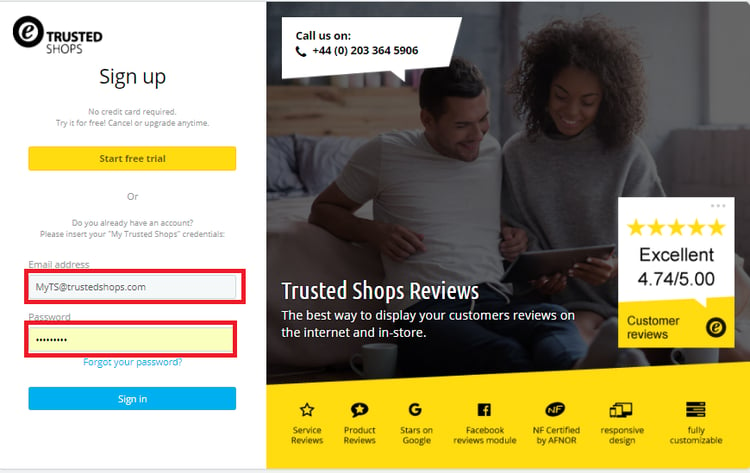 If you do not have a My Trusted Shops account, you can start a free trial by clicking on "Start free trial"
Step 3: Configure Trusted Shops-IDs

If you are updating from a previous version of the module, this step is omitted because the association is automatically adopted. After you have logged in with your "My Trusted Shops" data, you will be redirected to the "Configure my shops" page. Here is a list of the Trusted Shops IDs you have booked. By clicking on "Edit" you will get to the page "Configure your Trusted Shops-IDs".

Here you can associate the Trusted Shops ID with a shop using the field "PrestaShop Shop Language".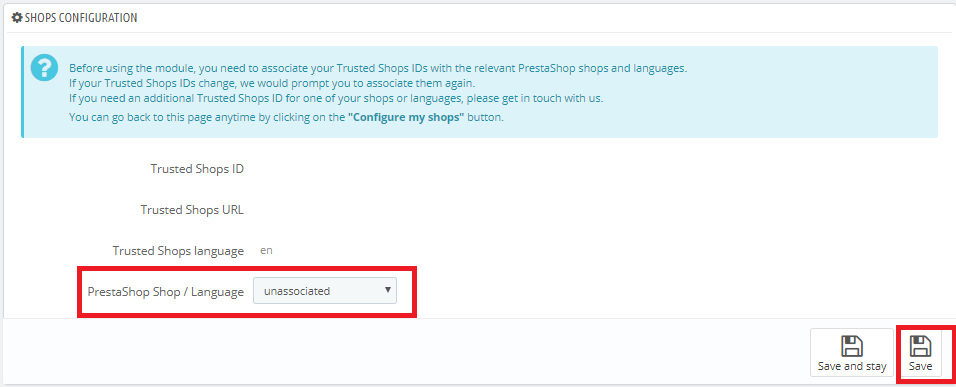 Step 4
After you have associated your Trusted Shops ID with your shop and saved, you will be redirected to the "Home" page. The "Home" page gives you information about which Trusted Shops products you have configured in your module.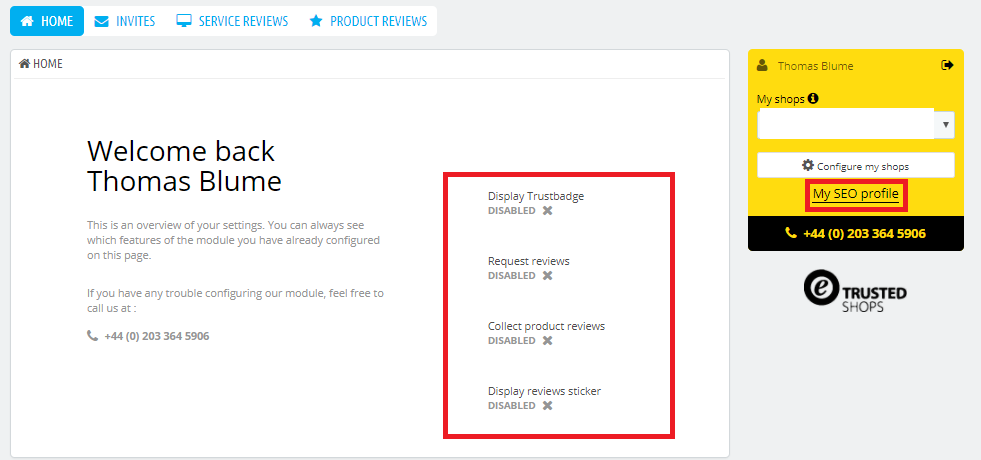 Display Trustbadge

To display the Trustbadge on all pages of the shop, go to "Trusted Shops Reviews Toolkit" on "Service Reviews".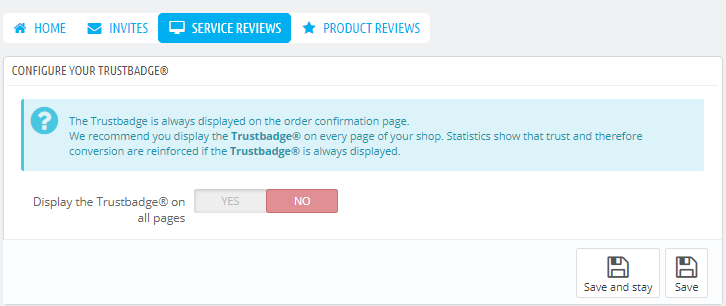 Here, select "Show Trustbadge on all pages" YES. Afterwards, further settings for the configuration of the Trustbadge will be displayed. You can e.g. display the Trustbadge without rating stars or change the distance from the lower right corner with "Vertical distance". For further configuration options, you can activate the expert mode.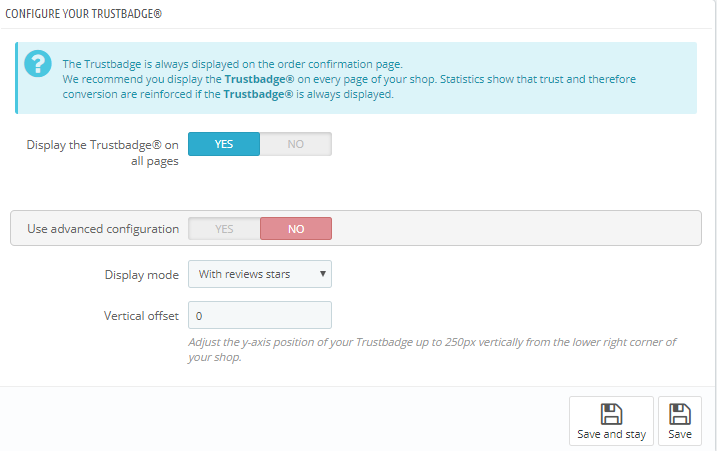 Activate Product Reviews
If you want to use Trusted Shops product Reviews and have booked an appropriate package, you can activate this under "Product Reviews".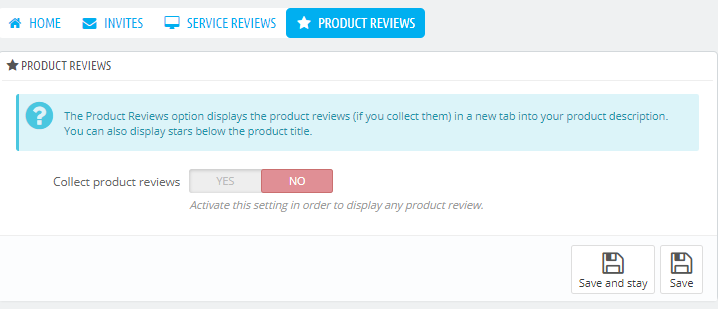 You can adjust the display of the product reviews to the design of your shop using additional parameters. You can set the border color around the reviews as well as the color and size of the stars. You can also customize the headline under which the Trusted Shops product reviews are listed: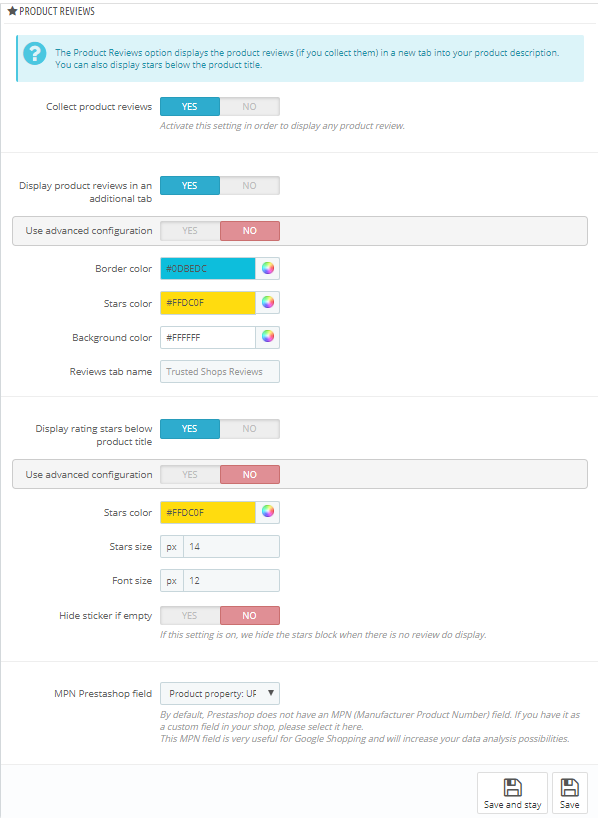 More Functions
The new PrestaShop Trusted Shops Plugin carries of a lot of new functions. You can now send review requests for orders made in the past 6 months. Alternatively, you can activate the "Automated Invites According to PrestaShop Status" function, which allows you to decide which order status and in what time frame your invites are sent.