Step 1
As a user of ePages, from version 6.17 you can now use an updated Trusted Shops plugin which enables you to integrate the Trustbadge® more efficiently than ever before. If you do not have this version yet, your host will promptly make it available to you.
If you have previously integrated the Trustbadge® manually, please delete it before continuing. If you have any questions regarding the configuration of the manual integration, please contact us at productintegration@trustedshops.com.


Step 2
As a next step, open the configuration menu in the back end of your ePages shop under Marketing >> Trusted Shops. Enter your Trusted Shops ID (starting with X...) here. This can be found in your My Trusted Shops account, for example. Alternatively, you can enter the URL address of your online shop into the text field to determine your Trusted Shops ID, as described below in step 3.
Now click on Save to go to code entry.


Step 3
Under Language, select the language version of the front end in which you want the Trustbadge® to be displayed.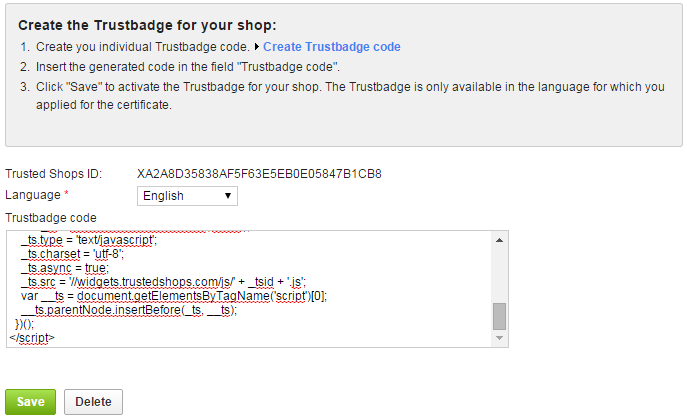 And with that, you will have successfully integrated the Trustbadge®!
You can now test the functionality of your Trustbadge® by triggering a test order in your shop. Make sure that the Trustcard appears at the end of the ordering process. The Trustcard contains a button your customers can click on if they want to receive a review request.